Accounts Payable Automation software for businesses
Accounts Payable Automation
Digital Designs' AP Automation is a complete solution for the capture of supplier invoices, including scanning, automatic data extraction, workflow, and integration with your enterprise financial system. By radically reducing the burden of manual keying and time-consuming forwarding of paper from one department to the next, your AP staff can process more invoices in less time with greater accuracy. Digital Designs' AP Automation delivers huge productivity gains and a rapid return on investment by eliminating the tedious tasks that traditionally live in most enterprise AP departments.
DocAgent automates the entire life-cycle of accounts payable: scanning and capture, creation of new documents, distribution, retrieval, archiving, and workflow. When the entire process is empowered through DocAgent, organizations can rest assured that this life-cycle is managed efficiently and securely.
Capture, access, manage, route, & analyze any type of document or invoice
Integrate into your existing financial applications
Collect data from invoices & other documents to validate totals & assign GL codes
Pay Your Invoices in 4 Easy Steps
Are you a good candidate for AP Automation? Take the quiz to find out!
Inbound documents (such as invoices, packing lists, and bills of lading) can be scanned into the system and cross-indexed with purchase orders for full document chain visibility when required. During scanning, invoice keys for related document cross-indexing can be entered or optically captured to enable rapid access of all documents pertaining to a particular transaction.
Documents captured at remote sites can be automatically relayed to a central archive for enterprise-wide access for users with proper authorization, using any Web browser. A sophisticated approval and rules-based system allows administrators to manage user functionality, keeping information sensitive documents secure.
Document Management Solution
Pre-defined routings, including conditional routings, may be established for each managed e-document type. Scanned invoices, for example, may be routed to the proper manager for review and approval based on vendor code. Documents found to be in error may be returned to any previous routing step for corrective action. With a centralized A/P system, when a file is requested, its exact location is known and can be retrieved quickly, removing the difficulties associated with a manual system.
Staff can browse, print, email or fax copies of purchase orders and other payment documents on demand as required, providing more responsive customer service. All activity is tracked within the system, so administrators can view payment history if necessary.
Easily flag vendors for electronic ACH payment processing with the option of sending e-mail payment notifications. During payment processing, secure laser checks can be printed for vendors who prefer traditional checks as a method of payment. For vendors who desire electronic transfers, transactions are automatically formatted based upon bank specifications, even among multiple banks. Each bank's ACH file specifications are stored in the job rules database, allowing seamless transfer to the required bank without user interaction.
When a vendor calls regarding the status of payment on an invoice, a service representative can retrieve related documents by simply entering the invoice number. And when a vendor requires a paper copy, documents can be sent directly from the system to the vendor to print on demand.
To further reduce staff overhead, selected documents can be made accessible to vendors online 24 x 7 via a secure Web browser interface. A vendor may log into the secure document server using their unique user ID and password and have instant access to only those documents they are authorized to view. While logged in, they can determine if payments have been made to an invoice, and view comments added to documents by authenticated individuals.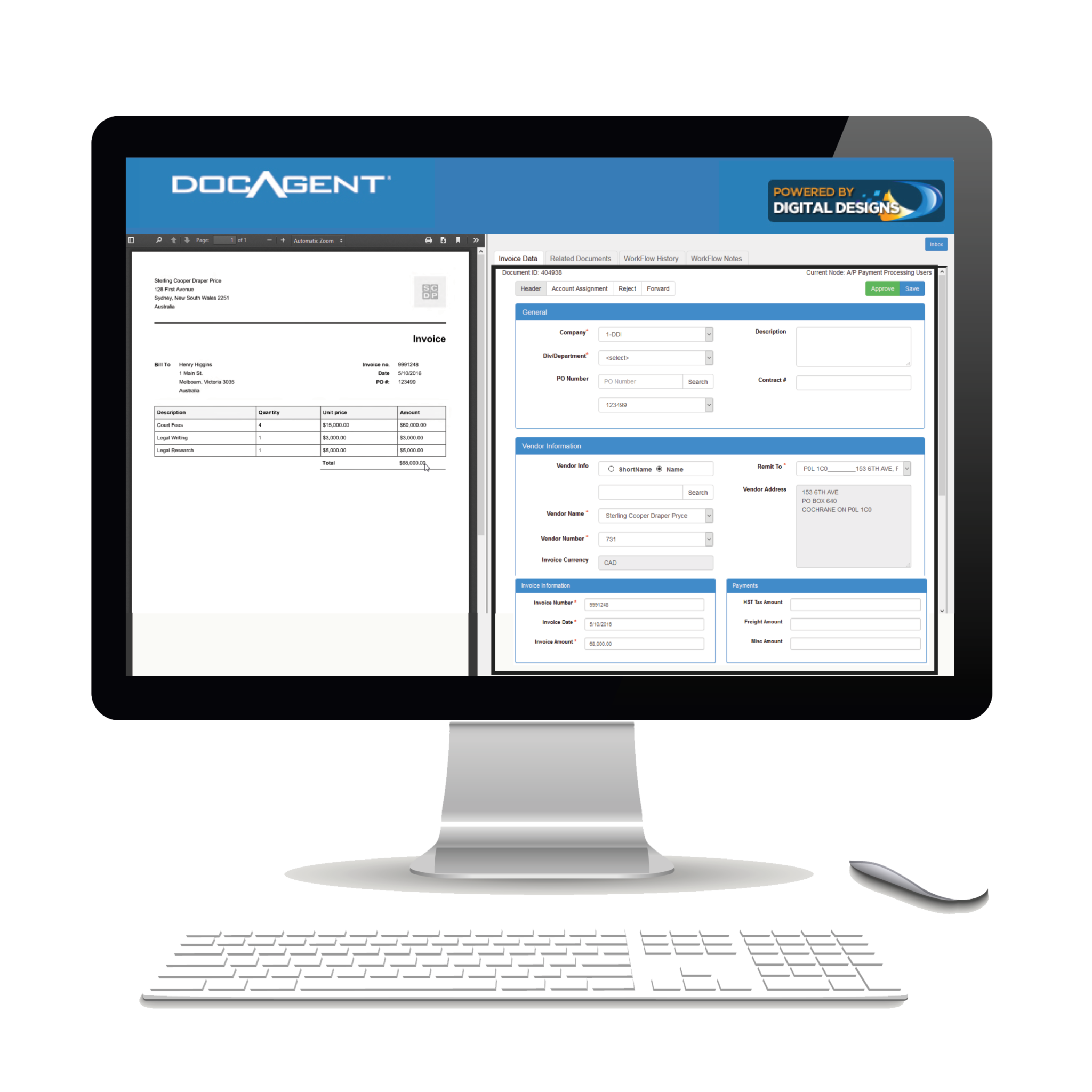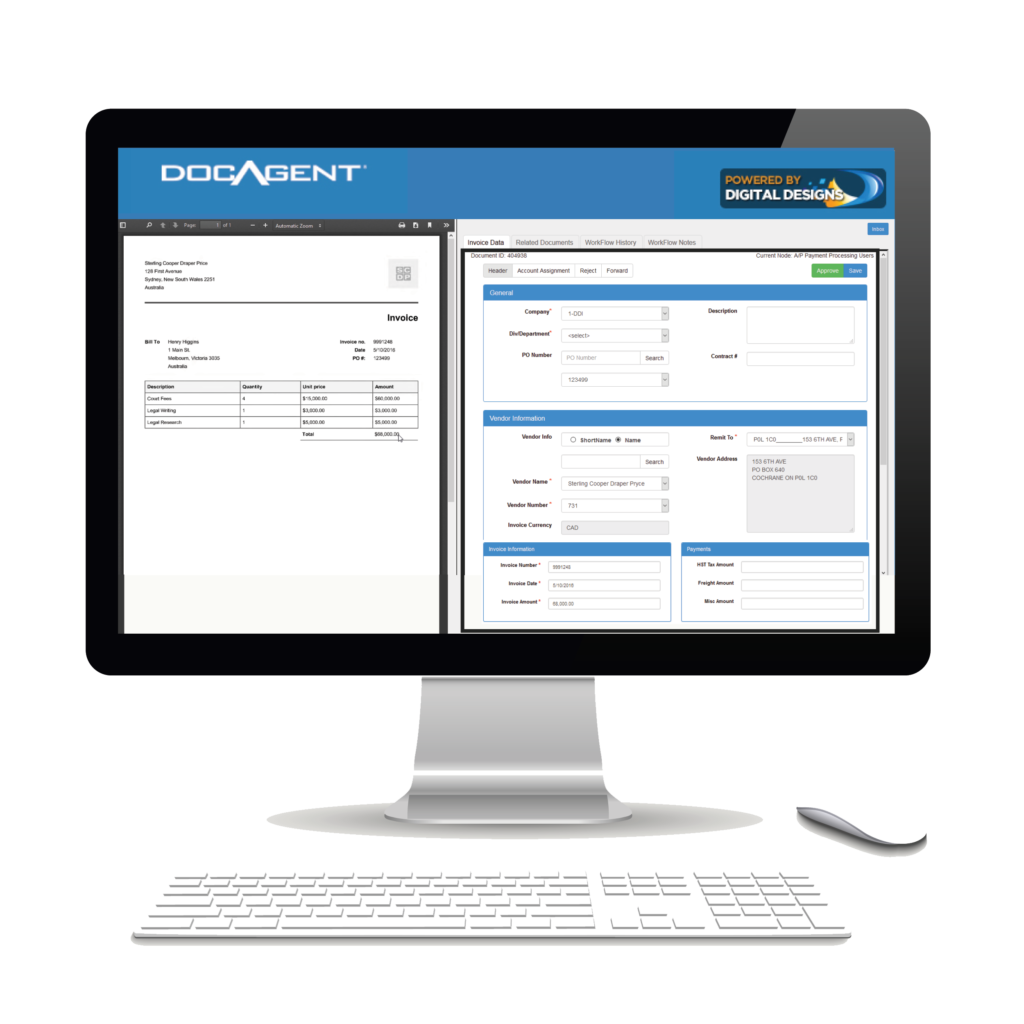 Why Should You Automate Your Accounts Payable?
Any business using every day manual AP process knows that doing it all by hand is tedious, time consuming and error-prone. If you are given a choice between a manual or a streamlined automated process, most businesses will choose to automate. However, automation requires effort and investment, therefore businesses need to assurance that the effort and investment are worthwhile – and that the returns are tangible.
Digital Designs' AP Automation delivers huge productivity gains and a rapid return on investment by eliminating the tedious tasks that traditionally live in most enterprise AP departments.
A Passion for Service and Support
Our passion begins with the consulting and sales process. We believe doing business should be easy. At Digital Designs we not only deliver the highest quality, most robust, and most manageable software solutions, but we also take great pride in our acclaimed customer service and support. Our Software Solution Specialists are on hand to provide timely answers to your questions and help you get the greatest value from your software investment.
Please contact us if you have any questions about our products or company by sending us a message through the form on our contact page!